What Our Clients Say…

"Amodeo Web Design have transformed my previous tired and dated site to a new fresh, attractive and yet simplified website, with plenty of room for ample information.
I am so pleased with the new colours, photos, and lay out, and look forward to all the new enquiries that my new website will now bring!
Thank you for your professionalism, guidance and patience when it came to decision making and ideas for my site."
Jo'anna Davies
Hypnotherapist/Coach/Stress Consultant, 1st Success
Web Development, Website Production
We don't just design websites, we build them too!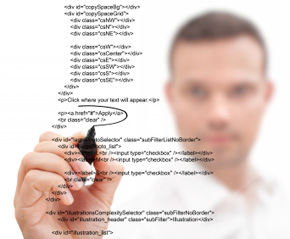 We convert website designs into fully functioning websites using the latest web standards and technologies.
Many of our websites feature an underlying Content Management System, meaning that you can take care of updating your own site.
We often use the following technologies: HTML5, CSS3, PHP, MySQL, JavaScript, jQuery. Our favourite CMS is Perch, we also work with WordPress and Joomla. We have used Magento for ecommerce and our team can also work with .NET and Windows based platforms.

Domain name registration
We can take care of domain name registration for your organisation.
Website hosting
We offer a convenient website hosting service for our clients if required.