What Our Clients Say…

"If you need a website built look no further than Amodeo Web Design! Not only does Nigel Harding have the technical ability to build a smart, snappy website, but he spends time listening to your ideas and requirements and understanding your business, feeding in his own ideas if you wish, in order to make your website more effective.
It was a sheer pleasure to work with Nigel in building my website. He is efficient, diligent and patient. I have had many positive comments from my customers about my website and have secured much new business as a result of it. I count myself lucky to have been associated with Nigel and have every confidence that you will too."
Virginia Roden,
Principal, Sunshine Montessori Schools & Cookham Montessori School
Website Design
We design websites for all types of business.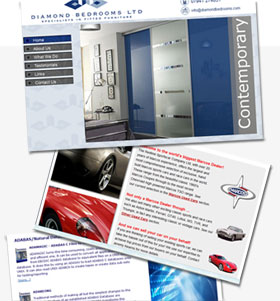 We will start by understanding your branding, colours, the audience you are trying to reach and will produce a design in consultation with you.
We have designed a variety of sites, from small brochure sites to enterprise level, large ecommerce sites. Our experience allows us to design websites that look beautiful but will equally be functional, useable and add value to your business.
Our Web Design Process
We would normally follow the following process:

Review the business case.
What is the purpose of your website? How can it or should it help the business? We first need to understand your business or organisational objectives and target audience(s) before we create your website.

Identify branding, colours, look and feel of your new website.
We will examine your existing corporate identity and branding or help you create a new one. We will then start to talk about the types of website that you like and why you like them and why they might appeal to your target audience.

Website design.
We will produce one or more design concepts in graphical format. We will review these with you and take things forward to a final design which you will then agree and sign off.

Build the website.
We will build your website using standards compliant technologies. For website production we generally use HTML5 with CSS, javascript and a Content Management System if required. We are constantly monitoring web standards.

Internet Marketing
If you are using our Internet Marketing or Search Engine Optimisation services we will now work on driving traffic to your site.
We know how to design and build successful websites. Why not contact us today to see how we can help you?