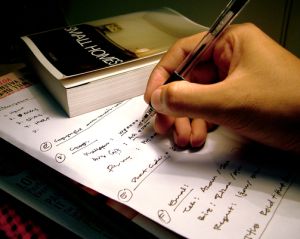 It's all about your audience
I am going to begin by drawing your attention to the golden rule of website content writing… You must know and understand the audience for whom you are writing. And in the 21st Century that audience may or may not be human!
The non-human audience
Of course, that latter comment refers to the all-powerful search-bots that read your content much more frequently than any human is likely to. Google's long term aim for its customers (users of search) is to provide the most naturally relevant search results and each of Google's updates to its search algorithms are, generally, intended to allow this ideology to evolve. Google has, over time, de-emphasised some of the more technical aspects of SEO and the strategy of indiscriminately collecting a huge number of inbound links is now redundant so it seems that the best way to curry favour with the bots (what an image that evokes) is to write good, natural content that creates a lexicon of relevant content for your website.
So what about the human readers?
Then of course there is the consideration of writing engaging and appealing content for your human visitors. By and large, websites are considered less formal than text books or even printed brochures so my best tip here is to be slightly conversational and try to be (I'm going to use an over-worked marketing term here) engaging! What does that mean? In my view that means:
Asking questions and providing answers (that old trick of rhetoric is still as valid today as it ever was).
Using personal pronouns – we like to read about "you" and "yours", it sounds so much more personal
Write in shortiish sections with headings to announce the context of each section. Visitors scan websites just as quickly as HR managers scan CVs and want to find information quickly!
Another tip, and I consider this to be very important, is to not simply describe what your business does but rather explain why visitors should do business with you. In other words, describe the benefits of doing business with you.
Is it worth "going professional"?
Of course you might wish to hire a professional copywriter for the job of writing web content. We offer this service to our clients. Some people have the gift of speaking words and some are masters of the written word. A good copywriter will not only be successful at creating well written text, he or she will be SEO-savvy (in order to help you with search engine placement in the search results) and will of course be aware of writing in line with your business needs, your marketing strategy and with a deep understanding of your target audience.
You may feel that you have the ability to do this yourself. I would never discourage anyone from having a go but it may be that you find it difficult to make time for this activity and it may be more productive to brief an expert and have them work their magic.
Finally, do check spelling and punctuation carefully!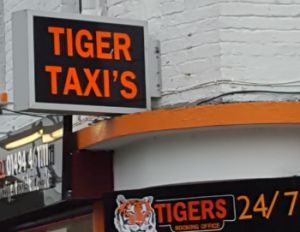 Did you know that Coke makes four times fewer writing mistakes than Pepsi in its posts on LinkedIn? There are people who analyse such things! It does create an un-professional feel if your website content is littered with punctuation errors.
I am going to sign out with a picture of the signage from a local taxi company. A copywriter would understand how the apostrophe should be used!
Do contact us if you would like any help!