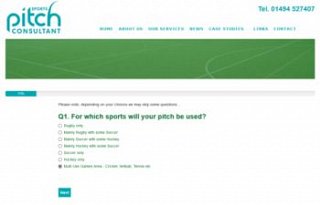 The Sports Pitch Calculator project
When Artificial Turf Consultant Jonathan Crowther approached us with an idea for a sports pitch calculator we took on a project that involved alot of bespoke mathematical coding. The pitch calculator was a key marketing feature and the ability to create instant estimates has proved to be really popular. Here are some notes on how we set about this. You can try out the calculator at http://www.sportspitchconsultant.co.uk
Guiding the web visitor through the process.
It was decided that one question per page was the friendliest way to manage this. To throw a large list of questions at the visitor can seem overwhelming or off putting. There are also several alternative paths through the questions (where a particular answer determines which question the visitor faces next). We offered a progress bar to provide reassurance and understanding of the current position in the process.
What the website owner provided
Jonathan provided us with a spreadsheet showing questions, possible answers, costings and "where next" information. We translated this into pseudo code to get a grip on the logic required. We then wrote the code, for the technically minded we used PHP to code the calculator pages.
Gentle opt-in
We do ask for a name, email address and phone number along with each usage of the calculator. When the visitor hits the final Submit button then a copy of the results along with the enquirer's details are sent to the website owner.
We hope that this strikes the right balance, this is intended to be a marketing tool so it does capture email addresses and phone numbers. These visitors may get a polite follow up from Jonathan, no one is under any obligation and we do not follow up aggressively or bombard visitors with marketing materials.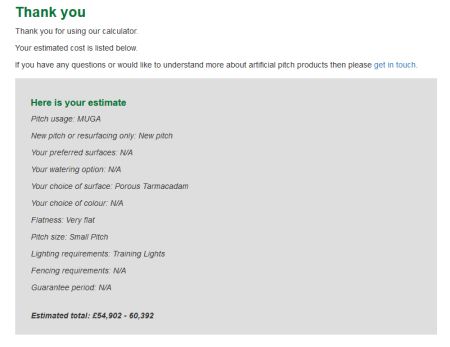 A fun and challenging web design project
This was a different project for us, we were able to work on quite a unique feature and I'd say that it has been a big success. I'm still copied in on the emails that are generated from enquiries and the calculator gets very good usage.
Amodeo Web Design would love to advise you on similar marketing approaches and help you realise greater reach through your own websites. Please let us know if we can help you.