Towards the end of 2014 Google introduced a new on screen indicator… If you perform a Google search using a smart phone then when displaying its search results Google will show a Mobile-friendly label if a site is deemed to be mobile friendly.
It has always been understood that Google values a mobile responsive or mobile friendly site, after all, Google wants its customers to have the best browsing experience after taking action on its search results. It now seems clear that this is a first step in clearly singling out those sites that are mobile friendly (against those that aren't).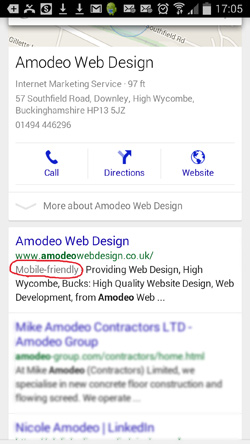 If you'd like to test your own site for mobile friendliness then you can do so here.
Google is evaluating the following criteria:
Site avoids software that is not common on mobile devices e.g. Flash
Site uses text that is readable without zooming
Site sizes content to the screen so users don't have to scroll horizontally or zoom
Site places links far enough apart so that the correct one can be easily tapped
At the beginning of 2014, Google statistics told us that 25% of internet usage was made using a mobile device. Here in the first quarter of 2015 it is expected that 40% of all internet usage is via a mobile device.If your site isn't mobile friendly then now is the time address this. If you would like some expert advice then do get in touch. We can usually take an existing desktop site and adapt it so that it becomes mobile friendly.