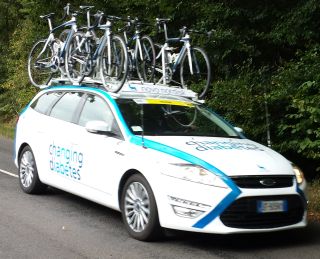 I was quite excited last week to be spectating at the cycling Tour of Britain where I cheered on Wiggins and co. as they spun through Princes Risborough and Great Missenden. In connection with this I recently saw a news feature on the Novo Nordisk cycling team (one of the participating teams) and this prompted some thoughts after I saw their brand and the messages on their cycling shirts and support vehicle.
What strikes me is that what they do is far more visible than who they are and for many businesses this is absolutely vital. Their business purpose "Changing diabetes" is far more prominent on their vehicles and clothing than their team name. The big brands can afford to be more self-promoting and conspicuous but for the majority of SMEs (Small, Medium Enterprises) it is initially far more important to communicate what you do rather than present or talk about your company name.
I'm thinking here of a first glance at a website. Browsing websites is a bit like reviewing a CV that is sent to you, the reader makes a very quick decision about relevance, quality and then either decides to dig deeper or click away. So communicating what you do is extremely important.
I have looked at some websites and been to some business meetings where it can be difficult to immediately determine the nature of the business. What it usually boils down to is whether you are offering a service or selling a product and your marketing messages should present themselves in these terms – perhaps by having a "Products" tab or a "Services" tab rather than an owner's biography or company history or whatever else might distract from your business raison d'etre.
So my advice is to be very clear and very obvious when communicating what you do. Reflect what you do in your brand, your logo, your taglines and your website messages. The Novo Nordisk team should take great credit for doing this.