Some basics
Some of the old "netiquette" principles are equally appropriate for FaceBook. In general then…
1. Do be polite and respectful at all times, no matter how passionate or angry you might feel about something or someone.
2. Do understand the difference between writing on someone's wall (which is public) and messaging (which is, in theory anyway, private)
3. Do accept that anything you say may find it's way into the public domain and that you need to accept responsibility for any opinions or comments. In a worst case scenario, you could be sued for something that you say or share.
4. Don't deliberately highjack a post or topic (i.e. don't change the original topic but rather create a new discussion if you want to talk about a new topic).
5. Do reply to any comments or questions, this is your opportunity to engage with prospects and customers.
Be somewhat thick skinned
I'm not suggesting that you need to be completely insensitive but at some stage someone that you are connected to will make a comment that you are not particularly impressed with or that will not help your business. This is as likely to happen in the world of Social Media as it is at a business meeting or down at the pub. In other words, the same sociality exists on FaceBook as exists in society. The overall benefits of using FaceBook should outweigh any slight negativity and how you handle any negative comments will be quite important. If you take a look at any Customer Service FaceBook page you will see how this is generally best handled e.g. try those never knowingly undersold chaps at John Lewis: https://www.facebook.com/JohnLewisRetail
Be magnanimous
Social Media is not the place to get involved in a slanging match, it pays to be seen as being magnanimous, able to embrace feedback and to politely defend yourself if needed on occasions. For example, the cycle chain Wiggle recently invited rivals Evans Cycles to participate in the ALS Ice Bucket Challenge. I noticed with interest the phrases used by Evans Cycles on FaceBook – "our friends at Wiggle". They are surely not the closest of friends but everything was politely expressed and Evans Cycles come across as being balanced, fair, willing to help out in a good cause and "up for" a fun challenge which is an overall plus.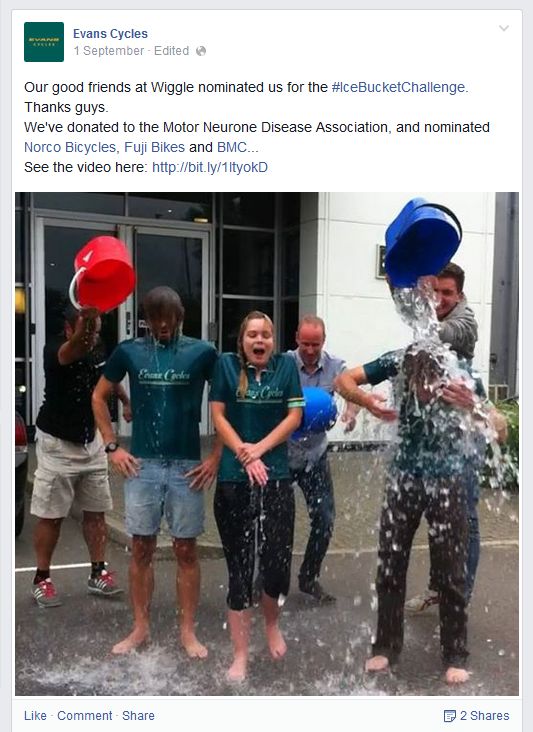 Be aware of FaceBook politics
What do I mean by that? Well, I have noticed in my personal FaceBook posts that some people will generally like my posts when I have something interesting to share (that's great, I appreciate good friends) whereas some individuals will always ignore my posts… unless a person of some status comments on my posts in some way. Those ignorers then immediately start liking my posts and making contributions. So do be aware that this might happen.
Similarly, every time I make a post involving my daughter you can guarantee that a certain other parent will post something about their child within a couple of hours. This might be a pattern that you start to see with a business competitor, they may be tracking you and responding to your messages or special offers etc. So do be aware of these types of reactions and behaviours.
Summary
So do enjoy using your FaceBook account to engage and interact with the digital public but protect yourself and don't let that stiff upper lip falter.
Please be aware that Amodeo Web Design offers a fully outsourced Social Media solution so we can manage FaceBook and other accounts for you. Just give us a call if you would like to explore this further.