Introduction
We all have to start somewhere, perhaps we have worked with or inherited an existing logo and we reach the point where we have to consider whether the logo is helping or hindering the business. Or perhaps we are about to embark on an exciting new venture and require a new logo for a new company. In this article I set out some thoughts on when to consider creating a new logo or refine the existing brand.
Logos for New Businesses
A new business or enterprise will usually require a web presence or stationery and an owner will almost certainly consider commissioning a new logo. Of course funds are often tight for start-ups but one thing I would suggest is to not skimp on the logo. Our company has seen some (frankly appalling) clipart used as logos. I am of the firm opinion that it is better to invest in a professional looking logo from the outset. If you can convey a professional impression and communicate what your business is about via your brand then you are much more likely to have a positive start. It is well worth asking a professional to consider your objectives, your audience and to come up with concepts that can be progressed into a logo in which you can feel confident.
The Wickness Models logo was created for a new enterprise which has grown from a part-time to a full-time business:

The small business that has achieved lift-off
We often find companies that have used a logo for a couple of years and then reach a point of dissatisfaction with it. It may be that the company has grown and the owners may feel that they are in a position to invest some more funds into marketing (and it is at that point that they feel their logo might be letting them down). So for us, it is quite common for someone to approach us and ask us what we think or what we can do. If you are in this position do talk to ourselves and we would be happy to give you our thoughts (with no obligation). Here is an example of a logo we created for Horizon Sports Club (the old one and the new one we created).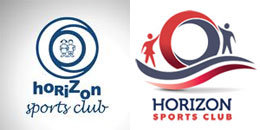 The business that has changed or needs to be refocused
Sometimes a business may find that it's business has diversified or changed in some way and perhaps the original brand or logo has become less relevant or confusing. This may be a good time to reconsider the logo and evaluate whether it is still helping the business. A big player example of this would be the BP logo where the company de-emphasised its British origins (BP = British Petroleum) and moved to a more international and modern design.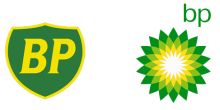 The logo refresh
Sometimes a logo just needs to move with the times and take on a slightly different style without fundamentally changing the concept. To stay within the energy industry, consider the evolution of the Shell logo from 1961 to today:

Acquisitions and mergers
In today's dynamic business environment, companies often combine and while there are some companies (and logos) that are completely subsumed there is often value in reflecting all of the brands or products in the newly merged company. An example, below, is the merger of Chase Manhattan and JP Morgan:

Conclusion
Successful companies are constantly reviewing their brand, their place in the market, the message they are communicating with their audience and how effective their logo is in supporting their presence. As ever, let us know if you would like to have a friendly discussion about your logo