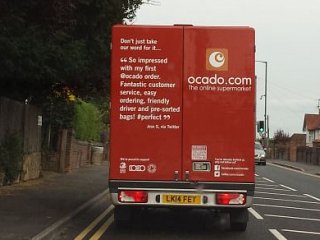 Social media is omnipresent
I recently followed an Ocado delivery van and noticed that it was displaying a reproduction of a tweet on its rear panel. We are used to seeing testimonials on company marketing materials and assets but the fact that we are seeing Twitter messages reproduced in this way tells us just how far social media is now reaching.
The rise and rise of Twitter
Social Media is certainly much more prevalent than it was even a year or two ago. To take Twitter (the increasingly popular micro blogging platform) as an example (as evidenced by the Ocado delivery van) then the latest stats suggest that Twitter is adding millions of new people to its user base every year and these users conduct over 600 million searches on Twitter each day.
More than one-third of Twitter users access the service through their mobile devices which makes it an excellent route into communicating with mobile phone users. You can use Twitter to post guest list promotions, news, endorsements (as is the case with Ocado) and links to other sites, music streams, photos and video.
Smartphone and tablet usage still on the increase
The use of mobile device technology (smartphones and tablets) is predicted to increase dramatically in the next few years and so this is at the heart of the business case for considering and adopting social media. If your target audience uses social media then you may be missing a trick if you choose not to communicate with them in that manner. The 20-somethings in the market place have all grown up with social media as a fact of life, the rest have been quick to seize upon it as a marketing tool.
Making the most of this huge market place
I am excited to see how this market develops. It will grow to reach levels of further maturity and I am certain that more and more people, including businesses and consumers, will join the party.
If you would like any advice on how social media might be able to help your business then just ask, we can offer a free assessment to let you know how this could work to your advantage.