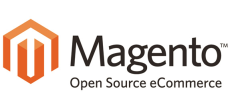 When considering a platform for your ecommerce website Magento is often suggested as the platform of choice. Several of our websites have been built using Magento and in our view it is a very robust and reliable platform. It is popular and so it has the backing of a knowledgeable community and you will always be able to find developers with Magento skills.
Here are some of the advantages of using Magento:
1. Popularity
It is very popular and a great deal of help and support are available.
2. Strong feature list
Magento contains everything and the kitchen sink! It has a long list of features and a number of marketing tools that will help you run a successful website. For example, if you want to run marketing campaigns such as 10% off or a BOGOF offer then Magento can support all of this and more. This often results in higher conversion rates (into sales).
3. Scaleability
Magento is industrial strength and there is virtually no limit to the number of products and categories that you can use.
4. Magento is Open Source
Though you will need to pay for a developer to setup your payment gateway and integrate your design into a theme, Magento itself is free.
5. Search Engine Friendly
Magento is search engine friendly. Search engines expect ecommerce websites to use friendly URLs (paths to files), Google et al like to see http://sitename/category/product and Magento facilitates this. Magento also features a Product View Optimization tab that lets you install tracking code that tests the effectiveness of one version of a page over another.
6. Product Browsing
Magento provides good product browsing options, the flexible merchandising engine allows you to develop a product catalogue with ease.
7. When not to use Magento
Magento's all encompassing list of features does have an overhead and it can be a little bit overwhelming and disproportionate if you have a very small set of products or are on a particularly tight budget.
We have used Paypal with our own ecommerce system to create a very lightweight ecommerce platform for a small number of products. We are also currently using ejunkie to help a client provide chargeable downloads.
If you would like to discuss your ecommerce project with us then do give us a call, we are a friendly ecommerce web design company based in High Wycombe.